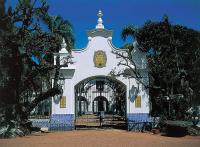 Estancia San Pedro de Timote
Location
Cerro Colorado (Inland and the North, Uruguay)
Description
Founded in 1854 by Pedro Jose Jackson, the original colonial main building was declared a National Historical Monument in 1997. It has lovely whitewashed walls and original Spanish tiles, and has now been converted into a family run country hotel. There is so much character, in particular the reception and library.
Activities
Facilities include 2 pools, tennis court and of course horses. Chapel.
Accommodation
40 individual, clean and simple rooms, all with private facilities.
Our comments
Lots of history and character. Antique furniture.
Client comments and reviews
The Estancia San Pedro de Timote was glorious. We had a really excellent time there horse riding, riding on the back of a tractor at night searching for local animals. We saw a skunk, an armadillo, a fox, swans, geese, ducks, we went fishing - all in all it was fabulous. The staff were the tops, the best anywhere I've ever been. They made you feel so welcome it was almost like family. The place is a little bit shabby in places and needs some money spent on it but it is special and has a special magic. The bedrooms were very large with a lovely welcoming log fire to heat you on your return from the many outdoor pursuits. The food was excellent - no complaints whatsoever. - JB (August 2007)