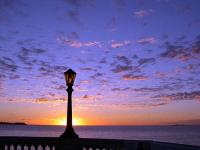 Colonia del Sacramento, 2 hours west of Montevideo, was founded by Portuguese settlers from Brazil in 1680, as a rival to the Spanish Buenos Aires on the other side of the River Plate. It has (in the Barrio Histórico) some of the only, and best-preserved, colonial architecture in this part of South America, including interesting museums and churches.
There are good beaches nearby (the best is Playa Ferrando, 2km east), although the water is fresh and brown!
Our preferred accommodation

means that the hotel is one of our Dream Destinations.