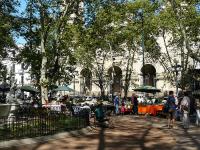 Montevideo ('hillock with a view') was founded in 1726 on a promontory on the River Plate. The city has a variety of architectural designs ranging from elegant French and Italian colonial buildings to Art Deco. The main square is the Plaza Independencia, the centre-piece of which is an imposing black marble mausoleum.
At the eastern end of the square is the Palacio Salvo apartment block, rather reminiscent of a miniature Manhattan skyscraper. The Plaza de la Constitución (also known as Plaza Matriz), peaceful and leafy, houses the historic cathedral. The fish market is well worth a visit. Between Montevideo and Punta del Este is Piriápolis, founded in the 1890's as a bathing resort, and popular with porteños (residents of Buenos Aires) in particular. It is a pretty, hilly area with pine and eucalyptus woods.
Our preferred accommodation
City hotel - Ciudad Vieja

A lovely boutique hotel which was once a palace from the 1900s. It is next to Zabala Square and close to many museums. There is no restaurant but there is a tea room and lounge bar, and also a roof terrace with good views.

City hotel - Near the city centre

A modern hotel overlooking the Rio de la Plata and within walking distance of the old city. Spacious rooms, all with views over the river and good facilities. There are two restaurants, an outside deck and small gym.

City hotel - Carrasco

A luxury hotel in the residential district of Carrasco, 11km from the city centre. The iconic building was originally built in 1921 and has been beautifully restored, maintaining many original features. There is a spa, bar and restaurant.