Estancias, vineyards and rural landscapes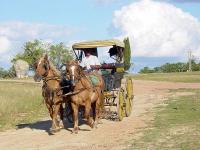 Inland you'll find the heart of what some consider the 'real' Uruguay with estancias sprinkled throughout the rural landscape and some beautiful, rarely-visited nature reserves. Rolling hills, forests and pastureland with livestock, and a variety of crops and vineyards epitomize Uruguay's 'gaucho country'. There are several estancias offering a range of activities (including riding), which can make a pleasant alternative to staying in a more conventional hotel.
Our preferred accommodation
Estancia/Ranch - Cerro Colorado - only open at the weekends except for groups

A small, traditional, family run estancia with lots of history. Comfortable, individually decorated rooms, lovely gardens, beautiful wisteria covered veranda and extensive grounds with amazing Monkey Puzzle trees. Horses.

Country hotel - Cerro Colorado

Founded in 1854 by Pedro Jose Jackson, the original colonial main building was declared a National Historical Monument in 1997. It has lovely whitewashed walls and original Spanish tiles, and has now been converted into a family run country hotel. There is so much character, in particular the reception and library.