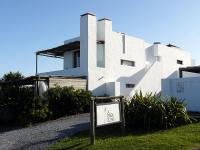 Posada del Faro
Location
José Ignacio (JosÚ Ignacio and the East, Uruguay)
Description
A small and cosy posada a few minutes walk from the beach and a little further into town. The posada has a living area, dining room, and library/TV room. Outside is a pool and deck with plenty of chairs and shade. There are bikes to borrow and golf carts to hire. They offer a beach service too.
Accommodation
15 rooms altogether. Superior rooms are more spacious and have views of the ocean and a terrace. Suites are larger still and have a double terrace.
Our comments
Very sweet although might feel cramped if it were full!