As promised here is our occasional Latin America news round-up and staff travel reports.
In this issue: Office news ♦ Last Frontiers' Top Three: Rooms with a view ♦ Jonny in Chile ♦ Oli in Costa Rica ♦ Claire in Ecuador and Galapagos ♦ Last Frontiers in the press

Office news
Lizzy starts maternity leave in March, and Rebecca returns in a few weeks time to look after our marketing. We wish Lizzy and Paul well - clever planning as the new arrival may share a birthday with Joseph, nearly 3.
2013 was a busy year for us, particularly with our new guide book, but we still managed a few trips away. Apart from those mentioned below, Sue is just back from El Salvador and Nicaragua and Claire from Uruguay - look out for their reports in our next newsletter.
Our Top Three: Rooms with a view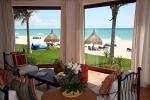 Maroma's Caribbean view
We always choose our recommended hotels very carefully, but if they have a lovely or unusual view from your room it's even better!
Beach view: At this time of year what better than a sugary beach view, and even better if it is over the beautiful calm, turquoise waters of the southern Caribbean. Maroma (owned by Orient Express) on Mexico's Riviera Maya has ocean view suites just steps from the white sand beach. You can enjoy your days relaxing on the beach, borrow a kayak, go snorkelling, or take in some of the nearby Maya sites of Tulum, Cobá or Chichén-Itzá.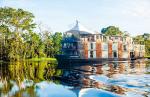 Aria in the Amazon
Jungle view: In the Peruvian Amazon the luxury M/V Aqua [2017 update: now sadly no more] cruise ship has cabins with huge panoramic windows, taking in the sights of the stunning Pacaya Samiria National Reserve, an area only accessible by water and a wonderfully-preserved habitat for Amazon flora and fauna. Cruises are of 3, 4 or 7 nights departing from Iquitos, Peru. She also has a sister ship, the Aria.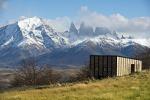 Torres del Paine from Awasi
Mountain view: In spectacular Torres del Paine (southern Chile) you are confronted by a view at every corner of the national park, but it's a special treat to have a room with a view. Awasi is set within its own private reserve overlooking Lago Sarmiento on the outskirts of the park. There are just 12 cabins, on the stark side from the outside but very warm and welcoming once you are safely ensconced, each with large picture windows. Other options in the area with equally stunning views are Tierra Patagonia, Explora and Hosteria Lago Grey. Do ask us to compare and contrast..
Jonny in Chile: a road trip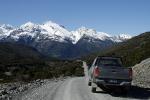 The Carretera Austral
In the austral autumn Jonny visited Chilean Patagonia, a country of extreme and beautiful landscapes. He visited some of the country's southern highlights, including a drive (using a hired 4x4) through the jagged peaks and glacial lakes of the Southern Highway (Carretera Austral); a side trip to the pristine Lake District; and the majestic beauty of Torres del Paine National Park. Read Jonny's complete Chile trip report here.
Oli in Costa Rica: resplendent nature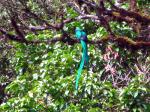 A resplendent quetzal
Costa Rica is currently one of our most popular destinations in Central America: good value, plenty of nature, and welcoming people. Oli was the most recent member of the team to be chosen to discover this beautiful country for himself. Despite a little rain, he managed to squeeze in some white water rafting, riding on the beach and spotting several resplendent quetzals (so far the only one of us see one in the wild). Read Oli's Costa Rica trip report here.
Claire in Ecuador and the Galapagos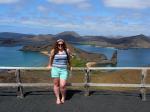 Claire at Pinnacle Rock
In September Claire headed to Ecuador and Galapagos and reacquainted herself with colonial Quito, explored the Andean cloud forest, Amazon rainforest, some traditional market towns and Humboldt's 'Avenue of Volcanoes'. She then visited the unique archipelago of volcanic islands that make up the Galapagos (someone has to do it). Read Claire's Ecuador and Galapagos report here.
Last Frontiers in the press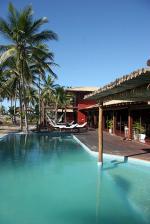 Casa Beija Flor
Jeremy Lazell, writing for the Sunday Times, set us the challenge of creating a week-long tour that would still allow a visitor to discover the soul of our chosen country, Peru. Our seven night Peru trip included the Sacred Valley of the Incas, Machu Picchu, Cusco and the Amazon.
Julia Brookes, in the Saturday Times, picked the 20 best family holidays from around the world and Last Frontiers' Peru Family Adventure was featured. This nine night trip included riding, white-water rafting, hiking, inflatable canoeing and downhill mountain biking and of course as visit to Machu Picchu.
Laura Fowler of Condé Nast Traveller travelled with Last Frontiers' help to the Brazilian state of Bahia. Laura and her husband stayed at several private villas, including Casa Beija Flor, a 5-bedroom villa right on the beach near the village of Canavieras. Bahia and the north-east is the place to discover Afro-Brazilian culture - from capoeira martial arts and candomblé religious ceremonies to the hip-swinging rhythms of the samba and bossa nova. Read a description of the Condé Nast Brazil article here.
Finally, in the Independent, Chris Leadbeater mentioned our 10 day Uruguay itinerary in his article 'A slice of Montevideo: Urban secrets served up on the Plate'.
www.independent.co.uk/travel/americas/a-slice-of-montevideo-urban-secrets-served-up-on-the-plate-9038790.html
With best wishes from Edward and all at Last Frontiers
Edward Paine
Last Frontiers Limited
Tel: 01296-653000 | info@lastfrontiers.com | www.lastfrontiers.com
The Mill | Quainton Road | Waddesdon | Buckinghamshire | HP18 0LP
"A really brilliant holiday, all expertly arranged by Last Frontiers! I think we all agreed that throughout the whole planning process, Last Frontiers have been excellent, always replying promptly to emails and always going that extra mile in terms of providing the information we needed. I can't think of anything you could have done better, so thank you very much indeed."