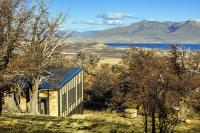 Awasi Patagonia
Location
Torres del Paine (north) (Torres del Paine, Chile)
Description
An exclusive, luxury hotel in its own private reserve on the southern slopes of the Sierra Contreras mountains with views towards the Torres del Paine massif. Local wildlife such as guanacos, ñandues (rheas), foxes and condors are regularly seen amongst the surrounding trees (the occasional puma has been spotted as well).
Activities
All excursions into the national park and the surrounding area are on a private basis and customised to clients' interests. There are also walking trails within the private reserve that guests are free to explore independently.
Accommodation
The 12 individual villas are built using native woods and their modernistic design is inspired by traditional Patagonian outposts. All have views out to Lake Sarminento, and each villa has its own living room, wood-burning stove and hot tub. The individual cabins are surrounded by woodland giving protection from the strong Patagonian winds.
Client comments and reviews
Amazing! The rooms are gobsmacking and the guide fabulous - they really listen to what you want. We found the food a little too 'experimental' for our liking but was still very good. - PH (January 2017)