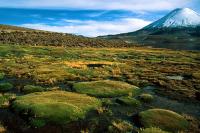 In the far north, near the borders with Peru and Bolivia, are the coastal oasis town of Arica and the Aymara village of Putre, both of which provide a good base for exploring the Lauca National Park. Here on the altiplano wildlife includes llamas, alpacas, vicuñas, vizcachas (chincilla family), and over a hundred bird species.
Our preferred accommodation
City hotel - Arica

5 minutes from downtown Arica, on the sea shore. It has its own beaches, plus a swimming pool, fitness centre, tennis court and mini golf and an excellent restaurant.

Lodge/Hosteria - Putre

A small hotel set in colourful gardens right at the edge of town with lovely views over the Andes mountain range. The hotel was built in a local Andean style with stones from the region.