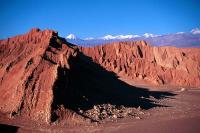 The vast Atacama desert is one of the driest places in the world. From the picturesque oasis village of San Pedro de Atacama, whose church is roofed with cactus wood, many of the desert's most dramatic sights are within reach. The region can be explored on foot, by bike or horseback.
Visit the geyser fields at El Tatio at dawn as they thaw, blowing plumes of steam into the air. Bathe in the many natural hot springs, or drive through the Valley of the Moon where almost no rainfall has ever been recorded. Here too is the great Atacama salt lake, harsh homeland to flocks of flamingos framed in the distance by smouldering volcanoes.
Our preferred accommodation

means that the hotel is one of our Dream Destinations.
Lodge/Hosteria - San Pedro de Atacama

A unique hotel, which blends into its setting, near the Pukara de Quitor ruins, around a 10 minute drive from San Pedro (4km). The living room has a fireplace and there are also some outdoor firepits which are great for stargazing. The hotel also offers six outdoor pools and a spa.

Lodge/Hosteria - San Pedro de Atacama

A uniquely-designed hotel on the outskirts of the oasis village of San Pedro de Atacama. The restaurant and spacious sitting area in the main building is contemporary in its design and decorated with local textiles. The grounds are extensive, with stables, a series of swimming pools and hot tubs. There is also an observatory for night-time stargazing.

Inn/Posada - San Pedro de Atacama

Just outside town (1km), built in the local Atacameña style with adobe and close to the pre-Incan ruins of Pukara de Quitor. It is very peaceful with good views to the volcanoes. There is a spacious courtyard-garden with an outside pool and small area for serving food.

Lodge/Hosteria - San Pedro de Atacama

A very comfortable boutique hotel in the centre of San Pedro de Atacama. It has been sympathetically designed and constructed using local materials such as adobe, there is a lovely outdoor pool, central firepit and a fine restaurant.

Lodge/Hosteria - San Pedro de Atacama

A lovely hotel 1.5km from the centre of San Pedro. The main building houses a bar, restaurant and main living area. Outside, there is a tempting pool, spa and a several firepits surrounded by native plants. Produce from their kitchen garden is used in the restaurant. Only allows children 10 years and older.