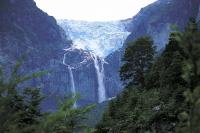 The first section of Chile's southern highway, the Carretera Austral, reaches its first ferry crossing an hour south of Puerto Montt at La Arena. From here, a road heads south, through verdant forest and past hot springs, to Hornopirén, a small fishing village at the northern end of a long Pacific fjord.
A daily ferry provides the only road link on the journey further south, arriving eventually at Caleta Gonzalo. This is the northern gateway to Pumalín Park, an isolated area of mountains, fjords and volcanoes stretching the width of Chile from the eastern border to the sea, and reaching as far south as Chaitén. This privately owned park covers a pristine wilderness of temperate rainforest, volcanoes, sheer granite rock faces and countless hot springs, much of it only accessible by boat. In fact, the park (which effectively divides Chile in two) leapt to contention when the land was bought by the American billionaire Douglas Tompkins as a showcase for his 'Deep Ecology' concept, creating Chile's largest foreign-owned ecological park.
The isolated town of Chaitén is the unofficial start of the famous Carretera Austral. Highlights of the northern stretch include Pumalín Park, a privately owned park and a pristine wilderness of temperate rainforest, sheer granite rock faces and countless hot springs; the tumbling Futaleufú river, which offers some of the finest white-water rafting in the world; the Queulat National Park with its hanging glacier; and the picturesque Simpson Valley. Further south, still with much of the friendly, welcoming feel of a frontier town, Coyhaique is an up-and-coming tourist destination, especially popular with fishermen who come to enjoy the excellent fly-fishing on the Simpson and Baker rivers.
Our preferred accommodation