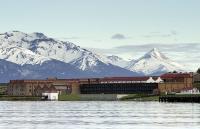 Three hours by road north of Punta Arenas, Puerto Natales is on the shores of Last Hope Sound (Seno Ultima Esperanza) and the ideal jumping-off point for the spectacular Torres del Paine and connections to Calafate (for Argentina's Los Glaciares National Park).
Our preferred accommodation

means that the hotel is one of our Dream Destinations.
Country hotel - Puerto Bories

A lovely little boutique inn at Puerto Bories, a port about 10 minutes from Puerto Natales by road. Riding is offered (they have 25 acres and their own horses). Breakfast is included, box lunch and dinner are prepared on request.

Country hotel - Puerto Bories, near Puerto Natales

Once a cold storage plant for Patagonia sheep exports, this historic building has been reborn as a luxury hotel whilst maintaining its original industrial architecture and heritage. There is a spa, sauna, and indoor/outdoor pool.

Lodge/Hosteria - Puerto Natales

A small, cosy hotel just outside Puerto Natales with views over the Last Hope sound, a restaurant, parking and a personal service.