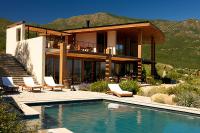 Clos Apalta Residence
Location
Colchagua Valley (Central Andes and wine valleys, Chile)
Description
A small, stylish property next to the Clos Apalta winery about 2½ hours south of Santiago. The dining and living rooms are in the main residence overlooking a pool, and with wonderful views across the estate, which runs to 650 hectares. Previously known as Lapostolle Residence.
Activities
Wine tasting, walking, relaxation, massages (additional cost).
Accommodation
Four individual luxury casitas are spacious, have a private terrace and are designed to maximise the views.
Client comments and reviews
A lovely and relaxing end to our trip. The museum in Santa Cruz was fantastic and would highly recommend to other visitors - LM (February 2017)