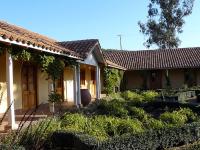 La Casona de Matetic
Location
San Antonio valley (Central Andes and wine valleys, Chile)
Description
La Casona is set in a colonial building with a reading/living room, pool table, fireplace and honesty bar. There is a lovely pool with beautiful gardens and views of the vineyards. There is an excellent restaurant, also open to non-guests. It is 100km west of Santiago.
Activities
As well as wine tasting it is possible to arrange trekking, riding and mountain biking, or take a van tour of the surrounding beautiful countryside.
Accommodation
10 large traditionally furnished bedrooms, each with a private terrace.
Client comments and reviews
La Casona Matetic was the perfect venue to recover from our long flight, and close enough for a day trip to Valparaiso by local bus! Very good food and wine, and a good tour round the winery. - IH (January 2018)
Beautiful and pleasant accommodation. Friendly and easy to find reception staff. Excellent wine tasting and estate tour. For those who like horse-riding then that's a must-do, through the cattle herds and vineyards. - DT (February 2015)