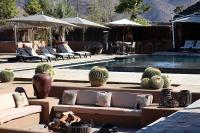 Casa Molle
Location
El Molle (La Serena and the Elqui valley, Chile)
Description
Casa Molle is a comfortable and well-appointed small resort in the Elqui Valley, a 30 minute drive inland from La Serena airport. Set on a 17 hectare site which includes a pretty walnut orchard, the hotel is built using local Molle culture styles and designs, with plenty of public space. There is a fire pit, restaurant, indoor pool and spa building, and large outdoor pool surrounded by decorative cacti.
Activities
There is a small 9 hole golf course.
Accommodation
Rooms have views over the surrounding orchard and countryside.
Our comments
The most comfortable accommodation in the Elqui valley by some margin. Charming staff and hosts.