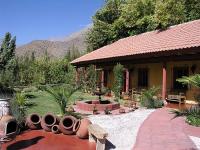 Hacienda Los Andes
Location
Rio Hurtado Valley (La Serena and the Elqui valley, Chile)
Description
This restored old 500 hectare hacienda is on and above the Rio Hurtado, around a two hour drive from La Serena. It was built in the colonial style, with traditional influences from Chile and Mexico in decoration and architecture.
Activities
The main activity is riding (which is suitable for novices) and walking on the trails leading up into the arid mountains - camping is possible if arranged in advance. Visits to the observatory near Vicuña can also be arranged.
Accommodation
The six pleasant tiled rooms (mainly with single beds) open out onto a patio with views up the valley.