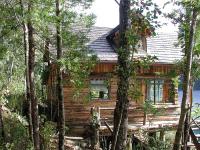 Bandurrias Island
Location
Las Rocas Lake, Puelo Valley (Puelo and the Southern Lake District, Chile)
Description
A haven of serene tranquility on a private island in the middle of Las Rocas lake (south-east of Puerto Montt). A special and isolated place only reached on foot or horseback with Cathy Berard, an excellent local guide.
Activities
Walking, riding, relaxing. Experiencing local Chilean culture.
Accommodation
Simple yet comfortable cabins close to the lake shore with views to the mountains beyond.
Our comments
Perfect for those who want a private trip off the beaten track and to enjoy the magnificent mountain landscapes and warm hospitality.
When to go
November to April only.
Client comments and reviews
The entire crew, Cathy, Tammy, Dominique, gauchos and team of horses were ALL fantastic. Plus we were blessed with excellent weather. Thank you for organising a life's ambition to ride over the Andes. - PC (January 2014)