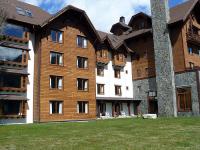 Hotel Natura
Location
Peulla (Puelo and the Southern Lake District, Chile)
Description
A large modern hotel on Peulla Island at the heart of the Vicente Perez Rosales National Park surrounded by stunning Andean lakes and mountains. Peulla Island is the first stop on the classic Lake Crossing route to Bariloche and there is an excellent restaurant, shop, spa and sauna.
Activities
The hotel offer a number of activities from hiking, kayaking and riding to their own canopy zip wires.
Accommodation
There are 45 modern rooms all of which have wonderful views of the surrounding mountains. Best of all are the 2 suites and 4 huge corner rooms which have stunning panoramic vistas.
Our comments
Modern and comfortable surrounded by stunning scenery, the hotel is ideal for those looking to escape the afternoon crowds though lonely if few people are overnighting.