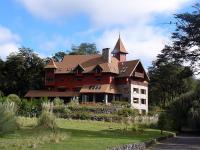 Hotel Petrohue
Location
near Puerto Varas (Puelo and the Southern Lake District, Chile)
Description
Petrohue has fine views over the Lake and to Volcano Osorno beyond. There are cosy seating areas to relax in and the small restaurant serves good food.
Activities
There is an activity centre in the grounds offering a full range of excursions, including walking, riding, kayaking, rock climbing, absailing and canopy rides, all accompanied by a professional guide.
Accommodation
The 20 rooms are comfortable and mostly spacious. Some have a view to the volcano and others have a view to the lake.
Client comments and reviews
Great staff, food and location. We enjoyed staying out there as we were right by the lake and could explore from the hotel without the need to organise official excursions - EB (March 2012)
We loved the hotel in Petrohue at the base of the volcano and the views. - AP (November 2007)