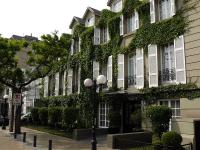 Le RÍve Boutique Hotel
Location
Santiago (Santiago, Chile)
Description
A lovely boutique hotel in the heart of Providencia in a beautifully renovated colonial house with a small courtyard garden. It has a very warm friendly atmosphere, many original pictures and books in the communal lounge area and an honesty bar.
Activities
An excellent base to visit the city's main highlights and for shopping.
Accommodation
The rooms are stylish and modern with good facilities and some overlook the garden.
Our comments
Very friendly and personal with a family feel to it. Breakfast only is served in the hotel but there are many restaurants and bars nearby.
Client comments and reviews
Le Reve is a lovely city hotel ideally placed to just be in the city but in a quiet location. My wife loved the retro kitchen with its tea and coffee making facility for use any time you want. - DF (November 2017)
La Reve is wonderful and when we go back to Chile we will stay there and explore Santiago. - JW (January 2017)
Hotel Le Reve was superb. We could not have been more delighted with the facilities or position. Although our room was a little on the small side, the splendid sitting areas downstairs and in the garden more than compensated. The honesty bar was a particularly nice touch and there were plenty of pleasant eating places within walking distance. - CC (March 2016)