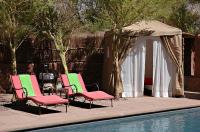 Hotel Awasi
Location
San Pedro de Atacama (The Atacama desert, Chile)
Description
A very comfortable boutique hotel in the centre of San Pedro de Atacama. It has been sympathetically designed and constructed using local materials such as adobe, there is a lovely outdoor pool, central firepit and a fine restaurant.
Activities
All excursions are on a private basis and customised to clients' interests. There are plenty of options to choose from, with more active excursions including mountain biking, riding, and hiking.
Accommodation
There are 12 circular suites all with spacious bathrooms, indoor and outdoor showers, and a private patio.
Our comments
An excellent option for those wanting comfort and private excursions. The only downside is that there are no views from the rooms.
Client comments and reviews
Awasi was special. - IS (November 2013)
An incredible place - the rooms, service, food and attention to detail were all spectacular. The day trips were very well planned; it makes a big difference getting the private tours and the guide we had was very knowledgeable. - CT (April 2013)
The Atacama is amazing and Awasi could not have been better, a very professional operation and the food to die for. - MF (July 2009)
Awasi was marvellous! Everything about the place, including the staff, was excellent. - JR (November 2008)
Our favourite hotel in Chile was Awasi! The riding around Atacama was just stunning! - MB (April 2008)