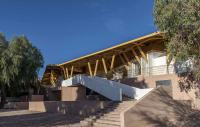 Explora Atacama
Location
San Pedro de Atacama (The Atacama desert, Chile)
Description
A uniquely-designed hotel within walking distance of the centre of San Pedro (1km). In the main building there are comfortable sitting areas with brightly-coloured textiles adorning the walls. There is a good restaurant and outside there are four pools, two hot tubs, a sauna and Turkish bath.
Activities
A guide will go through the excursion options with you when you arrive so you can choose - there are walks, treks, riding and biking and all excursions, in small groups, are accompanied by a bilingual guide. There is also an observatory for night-time stargazing.
Accommodation
There are 46 rooms spread out in a terrace style around a cobble-stoned courtyard. All have a small sitting area, a jacuzzi bath, good showers and wonderful views. The 4 suites have in addition a spacious living room and balcony with the same great views.
When to go
Year round.
Client comments and reviews
The Atacama desert was a revelation, I expected lots of sand! So many places to see but we felt we did the excursions justice and got a good idea of the area. The altitude did cause a few problems and when we went up to 4,300m to walk from Machuca to Rio Grande it proved quite a challenge! I loved the horses and managed to get two rides in, one on my own with a guide which was great. The Explora is a real activity centre (albeit 5*) with excursions morning and evening and some quite demanding - lightweight walking boots are recommended and a certain amount of fitness is required to get the most out of the trip. The atmosphere was very relaxed, the dress code informal and the accommodation and food were excellent. The staff were also most attentive. - LT (January 2011)
It is just fantastic. There is nothing chi chi about it. In fact someone likened it to a luxurious base camp. Loved the fact that you drove in through the stable yard and the hotel itself was open plan with stone floors, skins and rugs everywhere. The rooms were simple (whitewashed rough walls) with great bathrooms (shower heads like large dinner plates) and extremly comfortable beds. The food was truly amazing during our whole stay. They bake their own bread twice a day, make their own ice cream, pasta, preserves and have amazing seafood, fish and meat, and most definitely not forgetting the wine. - SR (December 2005)