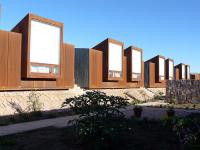 Tierra Atacama
Location
San Pedro de Atacama (The Atacama desert, Chile)
Description
A lovely hotel 1.5km from the centre of San Pedro. The main building houses a bar, restaurant and main living area. Outside, there is a tempting pool, spa and a several firepits surrounded by native plants. Produce from their kitchen garden is used in the restaurant. Only allows children 10 years and older.
Activities
A wide range of guided excursions are included, on a shared basis. On arrival the hotel's guides discuss which excursions are of interest.
Accommodation
The rooms are spacious and very comfortable and built in two rows (one in front of the other with gardens in between). The rooms in the lower row have a large picture window/sliding glass door which leads out onto a small private terrace and offers views out over the grounds to the mountains. The rooms in the upper row have a picture window which looks out over the lower rooms and a small private terrace at the back with a view over the vegetable garden and vines. The décor is rustic but stylish with lots of wood, natural colours and local artifacts and they all have both an indoor and outdoor shower. All rooms can be made up with a king double bed or twin beds, and there are also a couple of apartment rooms which can sleep up to 6 people.
Our comments
Beautiful views, very comfortable, and we always get very positive feedback.
Client comments and reviews
Nothing but good things to say. Tierra was fabulous again with excellent food and guiding. Wished we had stayed there longer to enjoy more of their excursions. - JK (August 2019)
High expectations were met at Tierra Atacama. Guides were very knowledgeable, good English, sense of humour. Food was variable but good overall. We were surprised at the quality of the house wines - somewhat better than expected! Scenery was amazing - we did all the tours except geysers - it rained so heavily the night beforehand that the road was impassable - a tiny stream we had seen the day before was now flooded and rock strewn. We walked into San Pedro lagoon instead. Horse riding was very good. - DT (February 2015)
At Tierra Atacama we were looked after very well. We were glad we decided on four nights in the desert rather than the original three as we found there were so many interesting visits available in such an amazingly diverse environment. - BJ (January 2014)
We had a great stay here. They organised all activities extremely well, guides were on the whole very good indeed, they never cancelled an excursion if only a few people wanted to go and we managed to fit in everything we could in the time available. Saw vicuña and vizcachas. Rainbow Valley is well worth seeing. Fellow travellers on excursions mostly Brazilian and great fun. Service and food very good, and staff too. - GW (October 2013)
The Tierra Atacama was fantastic and the excursions so well organised. The food was also first class. We met other travellers and enjoyed sunsets at the salt flats and Valle de la Luna. The Tatio geysers were also outstanding despite the early start and cold, but as the sun rose they were spectacular. - DH (June 2013)
Tierra Atacama hotel was excellent, lovely rooms with super views and good general areas. The swimming pool area was a real retreat after travelling. The menu of trips was excellent and as we had five nights we didn't need to try to cram everything in quickly as people on two and three night stops. In our view it is such a special place that people would be wise to stay longer if possible. - BW (December 2012)
Tierra Atacama is a breathtakingly beautiful hotel and a perfect base for exploring the Atacama. Four nights were perfect, given the length of our trip, but we were still very sad to leave. - LH (August 2012)
Tierra Atacama was also wonderful. Beautiful place, great service, fun excursions. - JG (July 2012)
I would more than recomend the Tierra Atacama. The food was excellent and the view from each room and anywhere in the hotel is wonderful. They have really good landscaping and are growing a lot of their food on site. They run a programme of excursions, each night you can pick the ones you want and they fit them in over the days you are there. - RS (November 2009)