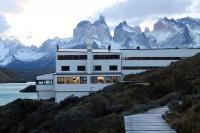 Explora Patagonia
Location
Torres del Paine (central) (Torres del Paine, Chile)
Description
The iconic Explora Patagonia hotel, with its striking contemporary design, is stylish and comfortable and offers an inclusive package with full board and choice of excursions (called 'explorations' and shared with other guests). Its position, overlooking Lake Pehoé, gives stunning views of the Paine massif (the cuernos - horns) to one side and to the Salto Chico waterfall on the other. Their Ona spa building, reached along a boardwalk, has a heated pool, sauna, steam room, and several ourdoor hot tubs.
Activities
Daily choice of excursions in the Torres del Paine: treks, rides, or trips by boat or van with bilingual guides and suited to all levels of activity.
Accommodation
Just over 50 rooms, all with spacious bathrooms. Most rooms face the massif (Cordillera Paine rooms), and 6 of them are larger (Exploradores Suites). There are 6 Salto Chico rooms which face the waterfall, which are exactly the same size but slightly cheaper.
Our comments
The original and most central of the lodges that operate on an inclusive basis. Highly recommended.
When to go
One of the few hotels open all year round.
Client comments and reviews
We had a fabulous time in Chile and Torres del Paine did not disappoint. What a place and the Explora was sublime. - AM (February 2023)
Explora was fantastic, really excellent actitivies and the staff and guides went out of their way to to help with any special requests. I rode a horse for the first time and the guide was great. - SJ (February 2023)
Explora lived up to all our expectations, we all had a very good stay and travelling in low season meant there were very few visitors in the park which made our stay extra special. Everything is very professional and we were lucky with the wonderful weather, clear blue skies and no wind, so made the most of the explorations. We did various hikes, went riding (where we swam the horses through rivers and rode up to a stunning viewpoint) and although the pool and spa were closed for maintenance we didn't really have time to miss it! The food was also very good and all our guides were excellent. - GG (August 2019)
The Explora was a wonderful comfortable experience - nothing was too much trouble - rooms were comfortable, service was excellent, food was good and varied and the daily trips were made to measure. Well worth the long journey. - NW (June 2019)
Explora was good and an experience but it's a tough place to get in and out of - two long days of travel, but then I guess that's part of its appeal. The guides were good as was the food and the views from our bedroom window were marvellous. - RM (January 2017)
The Explora Patagonia was brilliant. The setting and views unique, the service outstanding. I don't think either of us were quite prepared for the extent that the other guests would embark on rigorous activities which were a bit beyond this pair of septuagenarians. Having said that, we thoroughly enjoyed all the activities we undertook and time certainly did not hang heavy - how could it with scenery like that! - CC (March 2016)
Spectacular! The views from the rooms were incredible (I think they upgraded our room – it seemed to be bigger than everyone elses). The restaurant was great and I thought the standout part of the hotel was the enthusiasm of all the staff. They particularly looked after us given it was our honeymoon. - CT (April 2013)
Explora was good and I'm sure it is the best in the National Park. The hikes and riding were really enjoyable and the guides were all good. We didn't expect it to be quite so much full-on organised activity but that was fine for us. - ME (March 2012)
We thought that the Explora hotel was great, with good food and delightful staff. However, we found that all the excursions, even the 'easy' options, involved hiking to some extent and felt that we were walking for the sake of it and not having time to stop and enjoy the magnificent views. The guides were very good and looked after people at the back but we would have like to have done more excursions that took in the scenery and didn't involve too much walking. - I&ML (February 2010)
The Explora was perfection from beggining to end, they gave us a massage for our honeymoon and then we came back on our last day to find a bubble bath run with candles, rose petals champagne on ice in the sink and chocolate covered strawberries!!!! couldn't have had a better time. - RS (November 2009)
The Explora in Torres del Paine was the highlight of the trip, in stunning scenery and the hotel was beyond all expectations. Amazingly we had wall to wall sunshine there and no wind! - JJ (February 2008)
If we had to choose an overall highlight (which is very difficult to do), Explora would have to take the prize. A very slick operation and all beautifully done - wonderful guides, delicious food and an amazing setting. - AM (February 2008)
For the scenery birds and wildlife plus the guiding and hotel we all think that the Torres del Paine National Park was the highlight of our trip. - AS (January 2008)
Amazing! Our room here (the Suite) was just fabulous and the view from the window was staggeringly beautiful. Loved the position, the trekking, scenery. Good place to meet new interesting people. The expeditions were extremely good and well organised, we would enjoy another visit! - DJ (February 2008)
Undoubted winners of the first prize for scenery and best room with best view! - DW (March 2007)
Explora Lodge really did meet our expectations, and more! Stunning area and well organised excursions. - KL (December 2006)
Explora Lodge, FANTASTIC! worth every penny, everything exceeded expectations here. - DJ (November 2005)