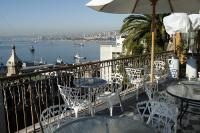 Gran Hotel Gervasoni
Location
Valparaiso (Valparaiso and Viña del Mar, Chile)
Description
A quirky, traditional hotel built right onto the edge of Cerro Concepción Hill just off the pretty Gervasoni walkway and viewpoint. Originally a private home, the wood beamed hotel harks back to a by-gone era with period decor and family heirlooms and is full of nooks, crannies and crooked rooms.
Accommodation
There are 14 rooms consisting of 3 elegant suites and 11 small standard rooms, 8 of which with excellent views while 3 look towards the road out the back.
Our comments
Love it or hate it, the Hotel Gervasoni is very Valparaiso and has its own quirky charm. Much of it is built at impossible angles into the hill side and there are endless floors, rooms and areas to discover!