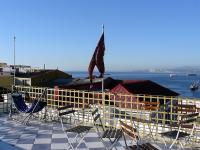 Manoir Atkinson
Location
Valparaiso (Valparaiso and Viña del Mar, Chile)
Description
Closed from 1 May 2019 until further notice
A small hotel full of character in the heart of the historic area of the city. The living room downstairs is bursting with charm and antique furniture. There is also a small rooftop terrace with hammocks.
Accommodation
There are 7 rooms, one being a suite with a seating area and small balcony. Four of the rooms (including the suite) have a view to the bay whereas the others have a view to the hills.
Our comments
A great option and in the heart of city.
Client comments and reviews
Our hotel, Manor Atkinson, was in a fantastic location and the suite there has a fantastic balcony overlooking the ocean. - LG (September 2016)
Valpariaso was a very relaxing break and we liked the Manoir Atkinson Hotel and the Attur Restaurant around the corner - table on the balcony overlooking the harbour with excellent food and service in the setting sun. We enjoyed walking around various parts of the town which is certainly lively and colourful! - TA (March 2011)