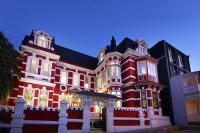 Palacio Astoreca
Location
Valparaiso (Valparaiso and Viña del Mar, Chile)
Description
A luxury boutique hotel at the heart of the historical centre of Valparaiso on Cerro Alegre. The bedrooms are spread across two buildings: the palace, a completely restored national monument, and an older house whose original façade has been conserved. There is a restaurant, wine cellar, bar and spa.
Activities
Explore the town by foot and funicular; the hotel is steps away from the famous Paseo Yugoslavo and the Fine Arts Museum, the Barburizza Palace.
Accommodation
There are 23 rooms across 4 categories: standard, premium. junior suite and suite deluxe. The standard rooms have a limited view only, whilst all others have far-reaching views to either the hills or ocean.
Client comments and reviews
The hotels were lovely, the highlight being Palacio Astoreca - beautiful large room and a superb location. - AW (December 2014)