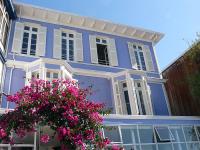 Zero Hotel
Location
Valparaiso (Valparaiso and Viña del Mar, Chile)
Description
A beautiful old house with great views to the bay. There are 4 outdoor terraces, one with a jacuzzi pool and the others with lovely plants and seats for admiring the views.
Activities
Explore the town by foot and funicular.
Accommodation
The 9 rooms are all beautifully decorated, each is light and airy and combines the old charm of the house with a modern touch. Some have a view to the bay and others have a view to the hills.
Client comments and reviews
Zero Hotel was very sweet with lovely staff. Very big room with view of the bay and gorgeous towels and bedding. Lots of restaurants handy and easy to walk to and from harbour and downtown for averagely fit people. - BW (December 2012)
Hotel Zero was lovely - and the people could not have been more pleasant and helpful - highly recommended! - AB (October 2009)