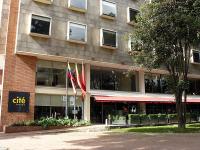 Cité Hotel
Location
Zona Rosa (Bogotá, Colombia)
Description
A comfortable mid range-option, on the edge of Virrey Park in the Zona Rosa district, and within walking distance of bars and restaurants. There is a restaurant, bar and lovely outdoor heated pool on the rooftop. Guests can also use a local gym a couple of blocks away, at no charge.
Accommodation
There are 56 modern rooms in two categories: deluxe (double or twin) and elegance (larger rooms with a king double bed). All rooms are well equipped and some are interconnecting.
Our comments
The hotel does not offer the most character but it is great value for money - good location, friendly service and all mod-cons. The pool is a great asset and the park view rooms are the best.
Client comments and reviews
Cité Hotel was a bit of a pleasant surprise. I thought it would be a little more functional and businessy than it was but actually an incredibly nice room and great base in Zona Rosa. Well picked! Service from the front desk a bit obtuse. They were happy to arrange a taxi through the company I assume they received a cut from, but flat out wouldn't tell us where the nearest metro/bus stop was. - MA (September 2015)
I really liked Cite Hotel in Bogota; our standard room was very good and the bed sublime (actually all beds throughout were very comfortable). Staff here were especially charming, although the friendliness of hotel staff everywhere was a plus point. - AT (February 2019)