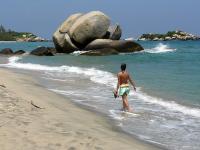 The snow-capped peaks of the Sierra Nevada de Santa Marta reach 5,770m and in their northern shadow the Tayrona National Park hides some of the most remote and enchanting beaches in the world. Here is also a starting point for treks to the famous Lost City (Ciudad Perdida).
Our preferred accommodation

means that the hotel is one of our Dream Destinations.