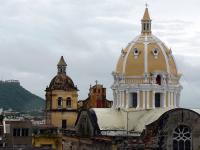 Cartagena de Indias, founded in 1533, is a coastal gem whose beautiful walled colonial city makes this deservedly the most visited tourist destination in the country. 9km of the walls remain, as do most of the historical buildings and squares preserved within, while the sprawl of the modern city spreads into the surrounding hills. Nearby, the Islas del Rosario offer good snorkelling.
Our preferred accommodation

means that the hotel is one of our Dream Destinations.