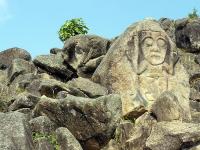 South, towards the Ecuadorean border, Popayán is a fascinating city of cobbled streets and whitewashed colonial buildings. A 5 hour drive to the south are the remarkable archaeological sites of San Agustín, highlighted by 500 imposing stone statues carved in accordance to the mythology of their Indian sculptors. A 5 hour drive to the east is the little-visited world heritage site of Tierradentro, famous for its underground tombs.
Popayán itself, Colombia's "White City", was founded in 1537 and is a charming colonial city with countless churches which in its heyday rivalled the likes of Villa de Leyva and Cartagena. Much of the city was destroyed in the devastating earthquake of 1984 though huge efforts have been made to restore it to its original grandeur. Today it is a fascinating city easily explored on foot.
Our preferred accommodation
City hotel - Popayán

A beautiful hotel which was originally a Franciscan monastery and dates back to 1570. The original Spanish-colonial architecture has been carefully preserved both in the impressive façade and elegant courtyards.