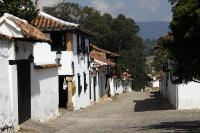 Villa de Leyva is the most visited of Boyacá state's many fine colonial towns and villages. Founded in 1572 and home to the largest plaza mayor in South America, tourists come for its markets and pretty cobbled streets.
Surrounded by hills, the town's rich colonial history is reflected in the distinctive white-washed buildings, traditional wooden balconies flowing with bougainvillea, cobbled streets, red-tiled roofs, and picturesque churches. It is best explored on foot and many of the townhouses offer captivating glimpses into their colourful gardens and courtyards.
Our preferred accommodation
Inn/Posada - Villa de Leyva

A country hotel built in the traditional colonial style, Duruelo is the largest property in town. Set a couple of blocks back from the main square, the property has large, well-maintained gardens, indoor and outdoor pools, a full spa, gym and two restaurants. Tours can be booked through the hotel.



Inn/Posada - Villa de Leyva

A small, simple but charming guesthouse opposite the plaza and cloisters of San Agustin close to the centre of town. Once a family home, the rooms and communal areas are set around two cobbled patios with tables and chairs shaded by trees and plants. There is a comfortable living room with a large fireplace full of character and decorated with countless books, family heirlooms and antique furniture.

Inn/Posada - Villa de Leyva

A friendly posada in a charming colonial building, with a very homely feel, right in the centre of the old town (one block from the main square). The decor is quite traditional, taking guests back to a bygone era. There is a restaurant which serves simple international food.