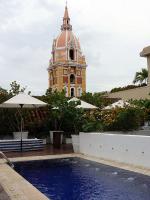 Agua
Location
Old city (Cartagena, Colombia)
Description
Very stylish small boutique hotel with more of the feel of a private house. Friendly staff. Rooftop pool with views to the cathedral dome.
Accommodation
6 large rooms, with a/c and ceiling fans, good bathrooms.
Our comments
Slightly dark downstairs area and steep and quite dangerous stairs are the only drawbacks.