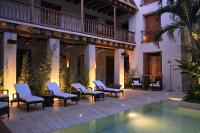 Anandá Hotel Boutique
Location
Old city (Cartagena, Colombia)
Description
A charming boutique hotel set in a sixteenth century colonial house in the historic centre of Cartagena. Rooms are set around inner courtyards, all are slightly different and tastefully decorated. There is a restaurant, bar, pool and jacuzzi on the ground floor and a smaller pool on the rooftop terrace.
Accommodation
Rooms are in three categories: superior junior suites, deluxe suites and luxury suites almost all of which open onto the inner courtyards, some of the luxury suites have balconies overlooking the street.
Our comments
A lovely option in a good location for exploring the old town. Staff were very friendly and attentive. The restaurant 'Carmen' receives rave reviews.
Client comments and reviews
The Hotel Ananda was amazing even if it did take a chunk of our budget. We just loved it - our room, the roof top area with Jacuzzi, the breakfast (which was heaven on a plate) and the staff. We liked Cartagena. We walked miles and had a very good go at it. - SH (January 2016)
Anandá hotel in Cartagena was wonderful. - JK (July 2013)
Cartagena needs little comment. It was ideal being in the old city and the Ananda Hotel was marvellous. - GD (October 2014)
Our second stay at the Ananda was just like the first - perfect! - SP (February 2014)