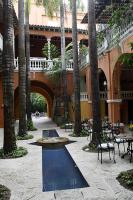 Casa Pestagua
Location
Old city (Cartagena, Colombia)
Description
An immaculate and spacious boutique hotel in the heart of the old city. Huge wooden doors lead you straight off the cobbled street into a grand, yet narrow, tree-lined courtyard which takes you towards a pool and terrace at the back of the hotel. There is a grand living/dining room around the first courtyard, and a stylish bar close to the pool.
Accommodation
11 rooms with high ceilings and classic, (mock) colonial décor. The master suite has exclusive access (when occupied) to a small roof terrace with wonderful views over the city.
Our comments
An oasis of tranquility away from the bustling colonial city. It could feel slightly more formal than other, cosier, options.