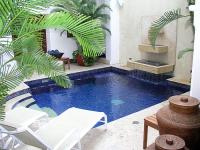 La Merced
Location
Old city (Cartagena, Colombia)
Description
A small, boutique hotel on the edge of the old town opposite the municipal theatre. There is a small dining area and larger sitting room just off the central courtyard and decorative pool.
Accommodation
There are 8 modern rooms, 7 of which (5 standard and 2 junior suites) open onto the courtyard and a small pool on the ground floor. Upstairs, the larger suite has its own rooftop terrace which overlooks the ocean.
Our comments
A boutique hotel in a prime position within the old town. Rooms are on the small side and when the upstairs suite is in use, the roof-top terrace is off limits to the rest of the guests.