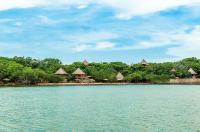 Las Islas
Location
Isla Barú (Cartagena, Colombia)
Description
A beautiful hotel in a secluded spot on the Caribbean coast south of Cartagena. Las Islas is on Isla Barú, just a 45 minute speedboat journey from Cartagena (or 90 minutes by road). Barú was once a peninsula and still has road access across the Canal del Dique but now forms part of the Rosario group of islands. The hotel has three restaurants to choose from, four bars and a café. There is an outdoor freshwater pool and beachfront spa.
Activities
A range of activities are included - use of bicycles, cooking classes, astronomy tour, night tour and water-based activities like snorkelling, paddle boarding and kayaking. Other activities can also be arranged at an additional cost, such as diving, a mangrove tour and a visit the nearby national aviary of Colombia where over 130 species of indigenous birds can be seen.
Accommodation
There are around 50 spacious bungalows, either seafront or treetop, and almost all the seafront bungalows have a private plunge pool. All bungalows are rustic in style with traditional thatched roofs, beautiful wooden interiors and are nestled into the forest. They each have a furnished deck, air conditioning and a ceiling fan, a private bathroom and TV.
Our comments
A lovely option if wanting to combine a beach stay with nearby Cartagena.
Client comments and reviews
The wind blows in January and February so the sea was often very choppy. We enjoyed the mangrove tour on the one day it was calm. Good to have bicycles. Food was reasonable, but the management felt tired. - JS (January 2023)
Las Islas was the best venue of the holiday, in a beautiful location, with lovely rooms. We had an enjoyable boat tour out to the mangroves. We liked the use of bikes to get around. The staff were very willing and friendly. Three nights would probably be enough as there is limited restaurant choice and external space. - JD (January 2022)