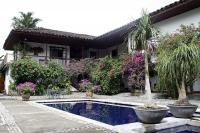 Hacienda San José
Location
Pereira (The coffee region, Colombia)
Description
Dating back to 1888, San Jose is a wonderful hacienda surrounded by spacious grounds and colourful gardens, situated at the heart of the coffee triangle in between Pereira and Chinchina. Owned and run by the Mejía Jaramillo family, the traditional two-story hacienda is full of charming colonial décor, period furniture and family mementos, an elegant testament to a by-gone era. There is an open verandah running the length of the building where breakfast and meals can be served while towards the back, a paved patio enclosing an elegant pool and Jacuzzi.
Activities
Riding and visits to the coffee region.
Accommodation
There are 8 charming rooms, 3 downstairs 5 up, each bearing a similar, colonial style though very different in character.
Our comments
A beautiful family home full of history and character, ideally located for exploring the coffee valleys.
Client comments and reviews
Delightful, despite being under the airport flight path. - JK (January 2023)
What a lovely place and our room, Manuela, was definitely the best - thank you for recommending it. It was very private with lots of windows and a lovely set of French doors plus a small balcony. The food was generally good and the steaks excellent. Great staff and we got to know them all by name. - JD (January 2012)