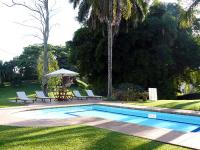 Finca Villa Nora
Location
Quimbaya (near Armenia) (The coffee region, Colombia)
Description
A lovely old house run by a very friendly couple who will welcome you into their home with open arms. The house has been in their family for generations and is decorated with family momentos and riding gear. There is an outdoor pool and the food is very tasty.
Activities
Explore the coffee region.
Accommodation
There are only 6 rooms, 2 of them are upstairs with private bathrooms and a further 4 rooms downstairs.
Our comments
A charming traditional place to spend a couple of nights. Not too much English is spoken but that doesn't matter!
Client comments and reviews
Nora runs an impeccable Finca, with two young ladies dressed in white, preparing delicious food and keeping the place spotless. Very relaxing surroundings. Loved it. - AO (February 2014)