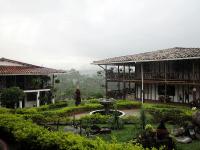 Akawanka
Location
San Agustin (Popayán and San Agustín, Colombia)
Description
A warm, family-owned lodge on the outskirts of town and a ten minute drive from San Agustin archealogical site. The rooms though simple are very homely and beautifully decorated with local art and textiles. The property is surrounded by wonderful, well-maintained gardens with gorgeous views. There is a restaurant, serving regional and international dishes.
Accommodation
There are seventeen standard rooms and one VIP cabaña which has a family suite (two rooms, two bathrooms, a living room and large balcony) and two individual master suites.
Our comments
A beautiful spot and the perfect base for exploring the archaeological parks of the area.
Client comments and reviews
An interesting and delightful hotel. - JK (January 2023)
We think the Akawanka Lodge was satisfactory and has a very good setting but lacked something for it to be an out of town hotel. After a full days sightseeing we didn't feel like the effort of a special journey into San Agustin but would have preferred easier access to coffee and drinks before dinner. - PC (February 2018)