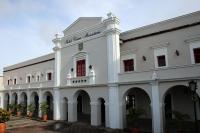 Dann Monasterio
Location
Popayán (Popayán and San Agustín, Colombia)
Description
A beautiful hotel which was originally a Franciscan monastery and dates back to 1570. The original Spanish-colonial architecture has been carefully preserved both in the impressive façade and elegant courtyards.
Activities
There is an outdoor pool in the hotel gardens
Accommodation
The rooms are large and sympathetically furnished.
Our comments
A lovely property with a real sense of history. The rooms are quite dated but perfectly comfortable.