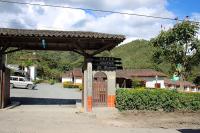 El Refugio
Location
Tierradentro (Popayán and San Agustín, Colombia)
Description
A comfortable little hotel run by the local community. The entrance to Tierradentro Archaeological Park is a short distance away.
Activities
There is an outdoor pool.
Accommodation
There are 20 simple rooms, whose bathrooms have cold water only.
Our comments
A simple hotel but the most comfortable in the area.