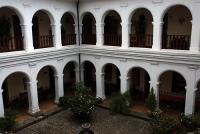 Hotel Plazuela
Location
Popayán (Popayán and San Agustín, Colombia)
Description
A small, cosy hotel with plenty of character a few blocks back from the central plaza.
Accommodation
There are 26 rooms on two floors set around two patios. The rooms themselves are large though very simple if not a little bare.
Our comments
Ideally positioned close to the centre of town but rather dated and old-fashioned.