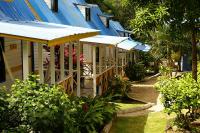 Cabañas Agua Dulce
Location
Providencia (San Andrés and Providencia, Colombia)
Description
One of the prettier and larger hotels on the island, this hotel is decorated in bright colours and looks very welcoming. There is a good-sized pool and Pirates of the Caribbean bar (complete with model of pirate behind the bar!). The restaurant is open air and there is a games room for children.
Accommodation
All 21 rooms are spacious and some have additional beds upstairs. They have hammocks on the porch, airconditioning and fan in the room. Across the road from the hotel, there is a small patio in front of the owner's house, overlooking the sea, and guests are welcome to use the area for drinks and relaxing.
Our comments
One of the more comfortable hotels on the island.