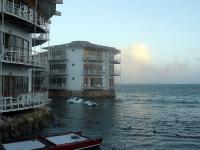 Royal Decameron Aquarium
Location
San Andrés (San Andrés and Providencia, Colombia)
Description
Just 5 minutes from the busy duty-free town centre, this is one of the original hotels on the island, and still maintains its iconic 1960s style. Rooms are in unusual round towers, set along the waterfront. There is a bar right out on the jetty, great to watch the sunset from.
Accommodation
Rooms are spacious and comfortable, with mini-bar and balcony. The new tower has a restaurant and bar below it.

Our comments
A good choice for a quick overnight stay, close to the airport.