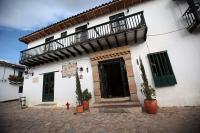 Posada de San Antonio
Location
Villa de Leyva (Villa de Leyva, Colombia)
Description
A friendly posada in a charming colonial building, with a very homely feel, right in the centre of the old town (one block from the main square). The decor is quite traditional, taking guests back to a bygone era. There is a restaurant which serves simple international food.
Accommodation
There are around 25 rooms in total both standard (double or family) rooms and suites. The family rooms are for up to five people – with a small sitting area, two singles in one room and a double in another. The suites have a sitting area and fire place. Some rooms have balconies.
Our comments
A simple option but in the perfect location and perfectly in keeping with the atmosphere of Villa de Leyva.