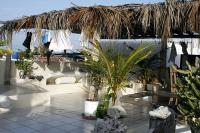 Posada Malibu
Location
Gran Roque (Los Roques, Venezuela)
Description
A charming posada a few blocks back from Gran Roque's beach. The design is tasteful and incorporates a mix of wood and adobe with plenty of plants to give it a spacious yet cosy feel with a lovely open plan dining room and kitchen. The interior artifacts have been sourced from throughout Venezuela. Upstairs there is a large split-level rooftop terrace.
Activities
Snorkelling, diving, fishing, boat trips to the cayes.
Accommodation
There are 11 comfortable rooms, a mix of mezzanine, superior and standard rooms, two of which are up on the roof terrace.
Our comments
A lovely, tasteful option that receives a number of fishermen.
Client comments and reviews
Well, what can I say? It was just idyllic. We will definately be going back there. Our hotel (Malibu) was gorgeous - the staff were so friendly and helpful and it was all very personal. The italian owner was lovely and even took us on a boat trip to Cayo de Agua with his friends. This involved an hour and a half boat ride to a deserted caye, with white sand and turquiose water. The captain of the boat prepared fresh ceviche for us which was delicious. On the next day we went to a nearby beach where we saw turtles in the water. We did not want to leave Los Roques and were sad to have to say goodbye. - E&CC (July 2010)