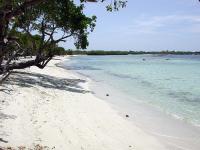 West of Caracas, the bustling fishing village of Choroní is close to some pretty beaches framed by the stunning backdrop of coastal mountains. The village is on the edge of the Henri Pittier National Park, more than 100,000 hectares of cloud forest and home to 6.5% of the world's bird species.
To the west of Choroní, you can see the giant sand dunes at Coro, or explore the wonders of the Morrocoy National Park - a beautiful collection of islands and mangrove swamps often full of flamingos, scarlet ibis and frigatebirds.
Our preferred accommodation
Inn/Posada - Choroní

A charming colonial house with 11 rooms around a beautiful courtyard with antique furniture. Breakfast is served in the gardens and candle-lit dinner in the courtyard can be prebooked.

Inn/Posada - Buena Vista

A beautifully decorated 7 room property set up on a hillside with cooling sea breezes and not far from Morrocoy National Park.

Inn/Posada - Morrocoy

Irina Jackson's small, simple house with pretty garden has its own jetty and boatman for trips to the island of your choice in the Morrocoy National Park. There is a small plunge pool in the garden and lounge area for relaxing in the evenings.