Stunning mountain scenery and traditional Andean villages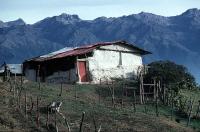 Coming from the heat of the plains or the tropical humidity and exuberance of the rainforest, it seems all the more incredible to find permanent snow only 10 degrees from the Equator, but in the Sierra Nevada de Mérida there are five peaks of around 5,000m. The cable car from Mérida (when running) climbs 12,000 feet over more than 12km, in four stages, and is the highest and longest in the world.
The scenery has not changed much since the original Indians cleared the fields of stones to make the walls and their dwellings. Today the local farmers grow mainly wheat and potatoes in these arid conditions, and brown and rainbow trout have been introduced with great success. The most typical plant of the páramo, or steppe, is the frailejón (possibly named after the shape of a monk's habit): the Sierra Nevada has 45 of the 300 species known to exist. Other lovely flowers often seen are blue lupins and alpine forget-me-nots. There are many small Andean villages only accessible on foot or by mule, seemingly hanging on the mountainsides.
Our preferred accommodation