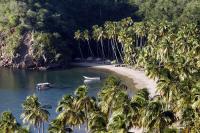 Further east of Isla Margarita and on Venezuela's mainland is the Paria Peninsula, a more remote area of deserted palm-fringed beaches, farms and isolated hamlets with a stunning backdrop of forested mountains.
Our preferred accommodation
Hacienda - Near Rio Caribe

The hacienda was built in 1908 and is a cocoa plantation making delicious chocolate. It is owned and managed by the friendly Esser family

Beach hotel - Rio Caribe Village

In a colonial villa in the small town of Rio Caribe.

Beach hotel - Near Rio Caribe

The cabañas are spread around the manicured tropical gardens on the low hills that lead down to the small (and effectively private) beach. Although the beach is small, it is very clean and there is also a small swimming pool next to the restaurant.